Habitat for Humanity offers programs and services beyond local volunteer opportunities, including:
Volunteer Trips

Volunteer abroad or travel to various build sites around the U.S.

Special Volunteer Opportunities

Take advantage of our youth programs, renovate existing homes through painting and landscaping or build homes specifically for veterans.

Service Opportunities

Individuals 18 and up can serve up to a year in the U.S. and abroad.

Learn more about all the programs and services Habitat for Humanity has to offer.
Build Houses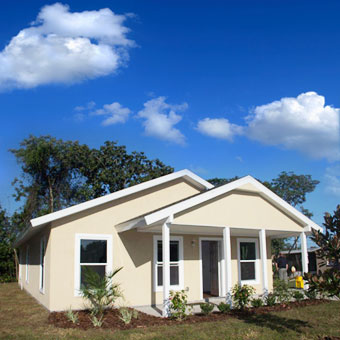 SIMPLE, DECENT AND AFFORDABLE.
Habitat for Humanity houses around the world are built according to the same guiding principles:
Simple:  Habitat houses are modestly-sized. They are large enough for the homeowner family's needs, but small enough to keep construction and maintenance costs to a minimum.
Decent:  Habitat for Humanity uses quality, locally-available building materials. Habitat house designs reflect the local climate and culture.
Affordable:  The labor of volunteers and partner families, efficient building methods, modest house sizes and no-profit loans make it affordable for low-income families to purchase Habitat houses.
Construction

West Pasco Habitat for Humanity, Inc. would like to invite everyone to join on our construction team.
Construction days are:
Tuesday & Thursday 8:00 am – 2:00 pm
Saturday 8:00 am – 12:00 pm
No experience is necessary!
Activities include: Framing, Drywall, Trim, Painting, Landscaping, Site-Cleanup and more.
For safety reasons, children under the age of 16 are not allowed on the construction site. We require one adult parent and guardian for every 4 children under the age of 18 on the construction site.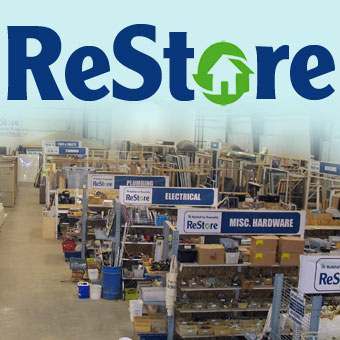 RESTORE
Come join the dedicated volunteer staff of our ReStore
The West Pasco Habitat for Humanity ReStore is open Monday through Saturday.
The ReStore is always in need of dedicated volunteers to assist with day-to-day activities such as customer service, shipping and receiving, delivery & pickup service, stocking inventory, restoration and more.
Volunteering in our ReStore gives an individual the opportunity to gain experience in a retail setting while helping to build their community.

A Brush with Kindness
We need groups of about 6-10 individuals to commit to volunteering in A Brush with Kindness Project one weekend a month.
A Brush with Kindness is an exterior home preservation service that offers painting, landscaping, weather stripping and minor repair services for homeowners in need.
A Brush with Kindness helps low-income homeowners impacted by age, disability and family circumstances, who struggle to maintain the exterior of their homes.

The Garden & Farmers Market
Do you have a green thumb?  Come volunteer in our garden.
Volunteers are needed in the garden on Monday – Saturday,  9:00 am-12:00 pm.
Volunteers in the garden will assist with planting tomatoes, cucumbers, lettuces, peppers, eggplant, beets and other plants such as papaya and banana trees.
As a matter of policy, Habitat for Humanity International and its affiliated organizations do not proselytize. This means that Habitat  will not offer assistance on the expressed or implied condition that people must either adhere to  or convert to a particular faith, or listen and respond to messaging designed to induce conversion to a particular faith.
We are pledged to the letter and spirit of U. S. Policy for the achievement of equal housing opportunity throughout the nation. We encourage and support an affirmative advertising and marketing program in which there are no barriers to obtaining housing because of race, color, religion, sex, handicap, familial status or national origin.
Home Ownership Program
If your family, or a family you know, is in need of decent, affordable housing, please contact your local Habitat for Humanity to apply. The local Habitat affiliate will explain the application process and provide information on the availability, size and cost of Habitat homes in your area.
Families qualify for the Home Ownership Program based on need, ability to pay and willingness to partner with us.
Need: There must be need in their housing situation.
For example: unsafe neighborhood, unsanitary conditions, children of different sex sharing a bedroom, leaking roof or windows, rent of more than 30% of their income or other problematic factors.
Ability to pay: West Pasco Habitat for Humanity does not give homes to people. We sell the house at a very reasonable price to the Family Partners at a 0% interest rate and hold the mortgage ourselves. The payment of the house cannot be more that 30% of the families income. It is required that each Family Partner attend a Financial Workshop.
Willingness to partner: Each adult family member must complete 200 sweat equity hours. That means that they work as a Habitat Volunteer for 200 hours before they can close on their home.
For more information please contact Kathy McMillion, Family Services Coordinator, at 727-859-9038 or k.mcmillion@wphabitat.com.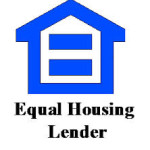 Neighborhood Revitalization Initiative
In June of 2012 West Pasco Habitat for Humanity launched it's Neighborhood Revitalization Initiative program.  It is composed of the following sub-programs:
A BRUSH WITH KINDNESS
Doing outside work to make a house more attractive. For example: Cleaning up the yard and painting the outside of the house.
CRITICAL HOME REPAIR
Fixing critical issues like plumbing, air conditioning, broken windows etc.
WEATHERIZATION
Getting the house energy efficient like insulation, windows and doors.
REHABILITATION
Complete renovation and restoration of a house.
The Neighborhood Revitalization Initiative is designed to pursue West Pasco Habitat for Humanity's strategic imperative of helping to transform and strengthen communities.
Program Application
Applications for 2016 will be Accepted
April 1, 2016 thru June 30, 2016
For more information please contact Kathy McMillion, Family Services Coordinator, at 727-859-9038 or k.mcmillion@wphabitat.com.